Redeeming Trust
December 9, 2017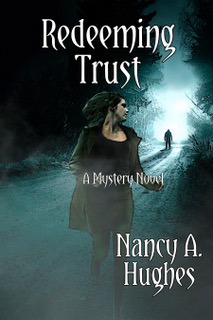 Kingsley Ward survived two vicious attacks, only to be targeted by the perpetrator's partner. She should be safe with the psychopath in prison, awaiting trial for her young husband's murder. And by publicly swearing that she cannot identify the killer's partner. She'd just caught a glimpse—but that is enough. And the partner knows it!
Kingsley has worked hard, reinventing herself away from her prestigious Philadelphia family, as head of commercial lending at a small, rural bank. Buoyed by new friends, meaningful work, and an amazing new man, she fails to grasp that honor among thieves is a real concept and that she is in eminent danger. As the star prosecution witness, her failure to testify would free two felons in unrelated cases. Or are they connected?
As the plot to silence her gathers momentum, Kingsley finds allies in unexpected places. Haunted by nightmares and guilt, she vows to see justice done. That is, if she lives long enough to testify.
Click below to read an excerpt

Print and Kindle available at:

_________________________________________________________________________________________________________________________
A Matter of Trust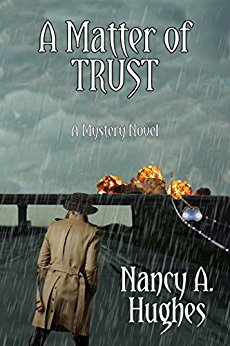 A tragic auto accident? No! The accident was staged, and young Doctor Ward murdered. But why? And by whom? The only witness, a DUI motorist, flees the scene. In the aftermath of Ward's death, and the media fascination, his widow, socialite Kingsley Ward, flees Philadelphia, impulsively accepting a job as VP of commercial lending at a small-town central Pennsylvania bank. But trouble follows her. She uncovers a bogus loan scam that leads her to suspect senior management. Throwing her life into further disarray, the anonymous witness to her husband's murder contacts her with compelling details about the killer's identity. Angry and frustrated, Kingsley vows to solve both crimes herself, risking her job, her reputation—and even her life.
Click below to read an excerpt

Print and Kindle available at:

_________________________________________________________________________________________________

The Dying Hour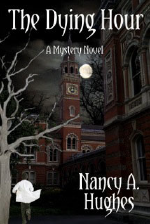 Charlie Alderfer's grandfather survived the Battle of the Bulge and his father, Omaha Beach. Charlie lasted five days in Vietnam before being wounded and sent home to a decades-long quiet, productive life. Until medical disaster struck. Charlie awakens from a coma in a VA hospice ward to face three final battles: a nocturnal intruder is murdering his roommates; a despondent five-year-old visitor harbors a terrible secret, and an inoperable aneurysm lurks in his chest. Ignoring his own precarious health, Charlie coaxes the child to unburden himself while trying to convince staff that a killer is targeting helpless patients. When no one believes him, Charlie intervenes. Relationships are key unlikely alliances driving the plot. Charlie is a strongly moral man with clear guiding principles and a big empathetic heart. The child, devastated by guilt, struggles to understand the scary adult world. His oblivious young mother, bitter from that targeted her family, trusts no one. The murders underscore the hospital's vulnerability and the ease with which a serial killer could infiltrate that world. That is until an unassuming hero puts integrity first and himself last. Read on…
Click on the logo to read an excerpt

Print and Kindle available at: